Step 1: Under the Planning tab, click on the blue Add Schedule button near the desired crop, growers will be able to create a seeding schedule here.

Step 2: A side modal will appear, specify the Zone, Quantity, Schedule, and who should be assigned to the series of scheduled batches.
Step 3: Click the blue Save Schedule button when finished. Start tasks will automatically be added to your task list.

Starting a Batch from a Scheduled in the Task tab (aka single batch, planned start)
Once a schedule is added, a task will be created in the task list.
Step 1: On the Task tab, check off the Start task to begin creating the batch

Step 2: In the dialog box, fill in the details about the batch.
Step 3: Use the tabs to fill in all the information, including Inputs, Custom Fields, and Barcode details, if applicable.
Step 4: Click the green Start button when finished.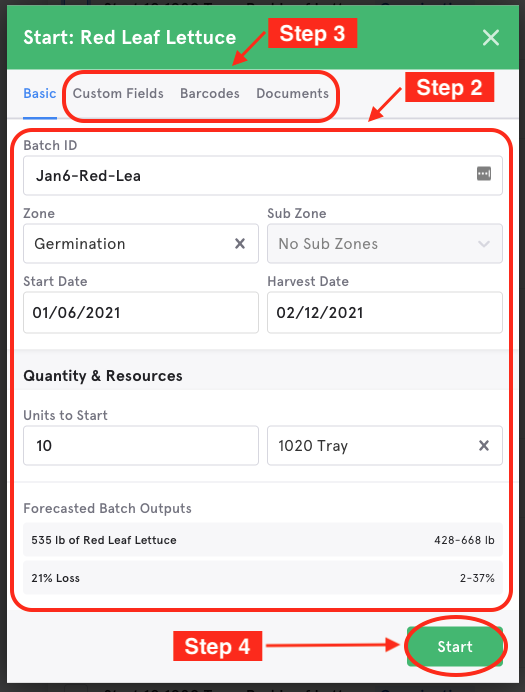 Starting an unplanned Batch from the Production or Planning tabs (aka multi-batch, unplanned start)
Step 1: On the Production tab, click the sub-tab that the new batch belongs to (pictured here: Crops), and click the green + Start Batch button to the right.

Step 2: A new window will appear where you can add multiple batches on the left and edit the details of each batch in the dialog box on the right.
Step 3: On the left, use either the + Batch button at the bottom of the list, or the Duplicate button near the batch created
Step 4: Click the green Save (#) Batch button when finished on the top right corner