Users are able to scan or search for a barcode in LUNA CMP and the batch profile will pull up instantly. This will help with food safety traceability allowing users to easily re-trace the lifecycle of a batch and see all the data associated with it's profile. Users can also use barcodes to easily move batches into new zones.
Assigning a barcode when Starting a batch:
Step 1: For a prescheduled batch, click on Tasks tab in the navigation menu. For an ad hoc batch, click the Planning tab in the navigation menu.
Step 2: For prescheduled, find the Start task and check it off. For ad hoc, find the template and click the green Start Now button
Step 3: Find the barcode section (towards the bottom of the start window) and put the cursor in the field and scan or type in the barcode.
Step 4: Click the green Save Batch button.
From a Batch Profile Page:
Step 1:

Click on the barcode icon located in the upper right corner (right to the left of the green Harvest /Finish button).

Step 2:

Scan or type the desired barcode ID into the Add New Barcode field.

Step 3:

Click the green Add button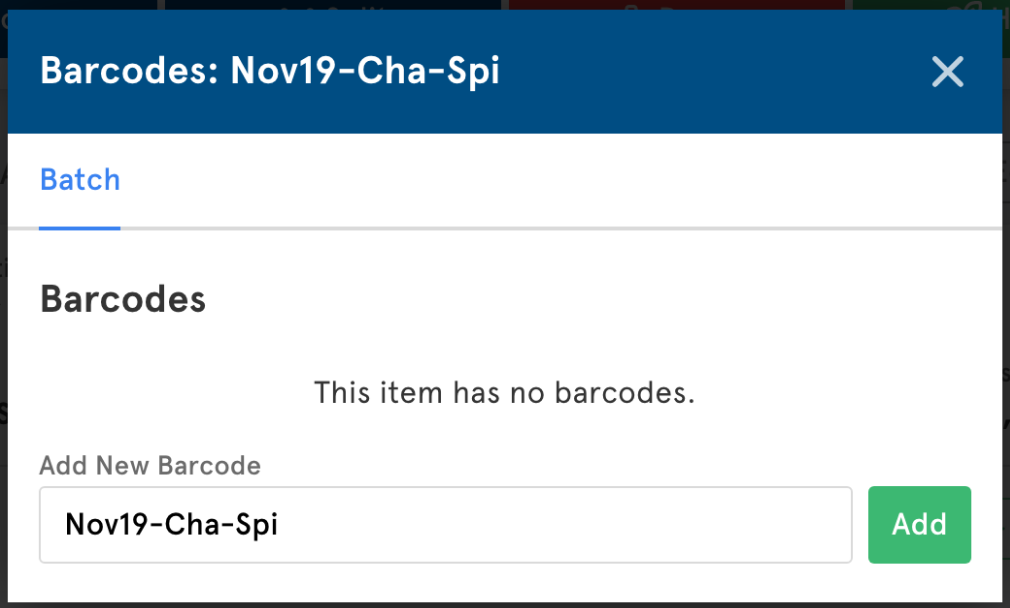 Additional Notes:
To associate multiple barcodes with this batch, simply repeat this process. To un-associate a barcode that has already been associated with this batch, click the dumpster button to the right of the barcode id.

On mobile, users can engage the barcode scanner to associate barcodes to crops. Otherwise, users will need to manually type the barcode ID into the popup field.