The production tab shows a birds eye view of every batch of materials, plants, packages, or shipments in your facility. The production tab provides two different ways to view the same data – list view and timeline view. This article describes the functionality of the production list view.
Stages
Each stage of production, from material to cultivation to packing and shipping, are shown at the top of the page. You Customer Success Manager can customize these stages to match to your workflow. The stage that you are currently viewing is highlighted in blue. Listed below is every batch associated with the current stage you are viewing.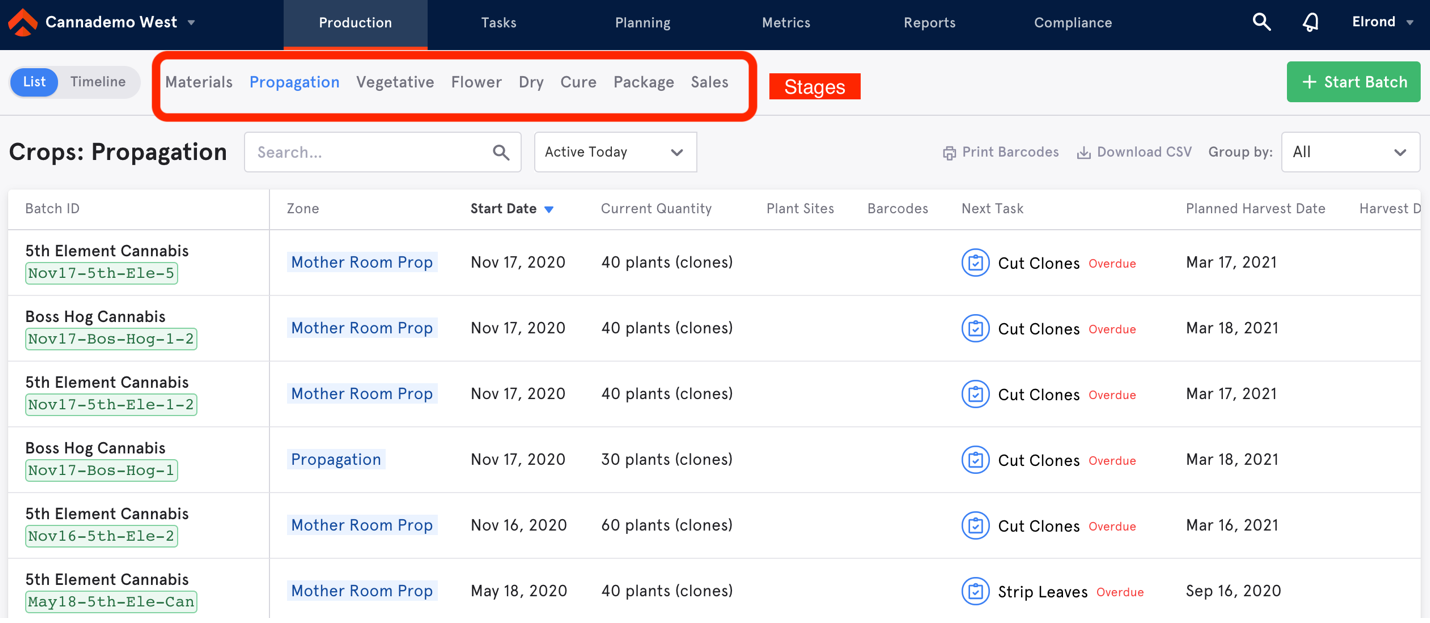 Batch ID
Each batch has a unique batch ID in green. For more detailed information about a batch, click the green batch ID to be taken its batch page.
Search and Sort Batches
When you're trying to find a batch, there are many different options you can use to track it down.
Find a batch by searching a barcode
Click the search icon in the main navigation menu to bring up the search box.
If the batch has a barcode assigned to it, you can search by scanning a barcode or typing in a barcode number into this search box. You can also search a batch by name.

Find and sort batches on the Production tab
Step 1: Click Crops (or any tab) under the Production tab.
You can select to view the batches in a List view. This view enables you to see more data at once and make quick edits to many batches.
Step 2: Use the Crops search box and filters to find the batch.

You can search by crop variety or identifier (name). You can also limit your search to Active Today, Active During, Seeding, Harvested/Finished, Planned Harvest/Finish Completed and Available Inventory.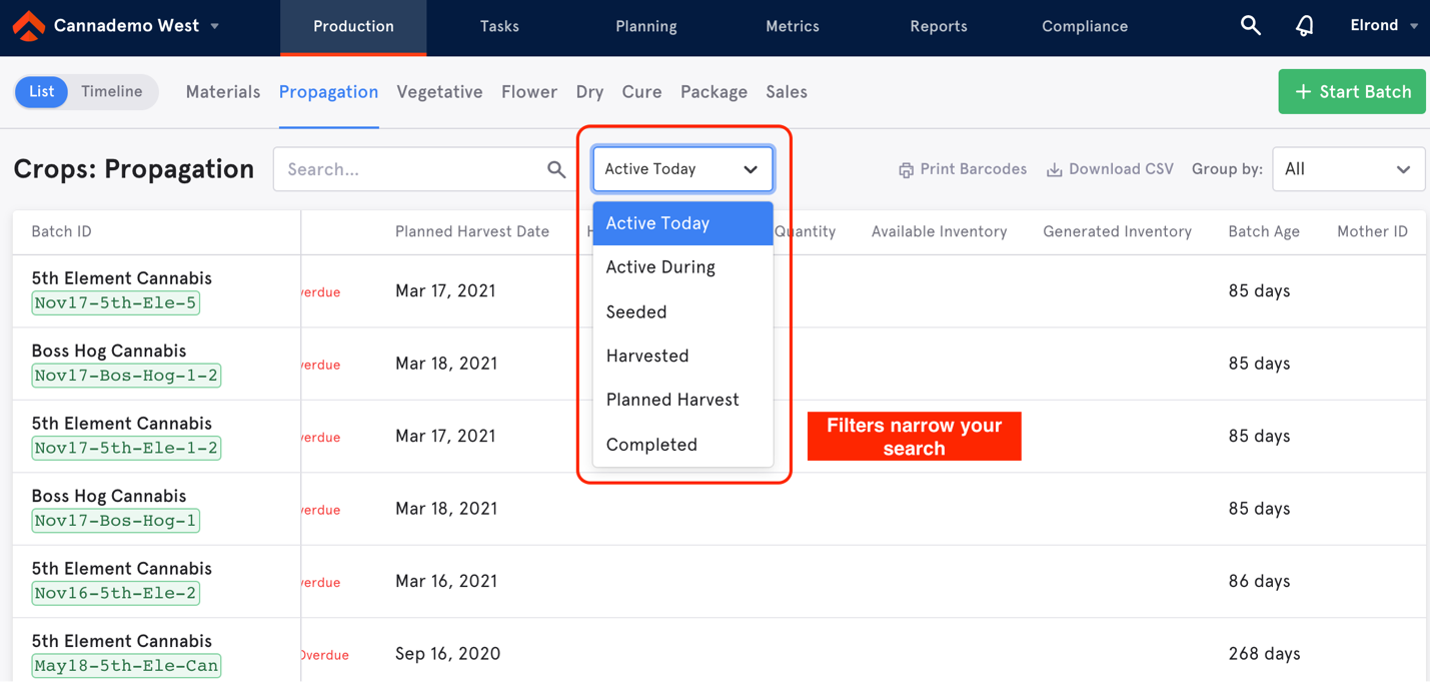 Active Today: All batches that are active today, including Finished and Destroyed if they were active today.
Active During: All batches that were active during this window of time, including Finished and Destroyed.
Seeded: All batches that have a start date inside this window of time.
Harvested: All completed/finished batches with a complete finish date inside this window of time. It does not currently include active batches with a partial finish/harvest.
Planned Harvest: All batches with an uncompleted planned harvest date in this window of time. Currently, past completed planned harvest dates are not saved, so no past data will show up if the harvests are completed. Planned harvest dates for old batches only show up if their harvests were not completed.
Completed: All batches with their complete finish (harvest) or complete destroy date in this window of time.
Available Inventory: This is best used on a material, packing, or shipping stage. It shows all active batches with inventory that is available to be drawn down from, regardless of when it was ordered.
You can sort batches by any of the columns visible in the batch list. Click the arrows next to the column name to sort alphabetically, chronologically, or numerically. Clicking the arrow again will sort in the opposite order.
Step 3: If you want to see the total quantity of plants or generated resources per variety or per zone, click the dropdown menu Group by.
Group by Variety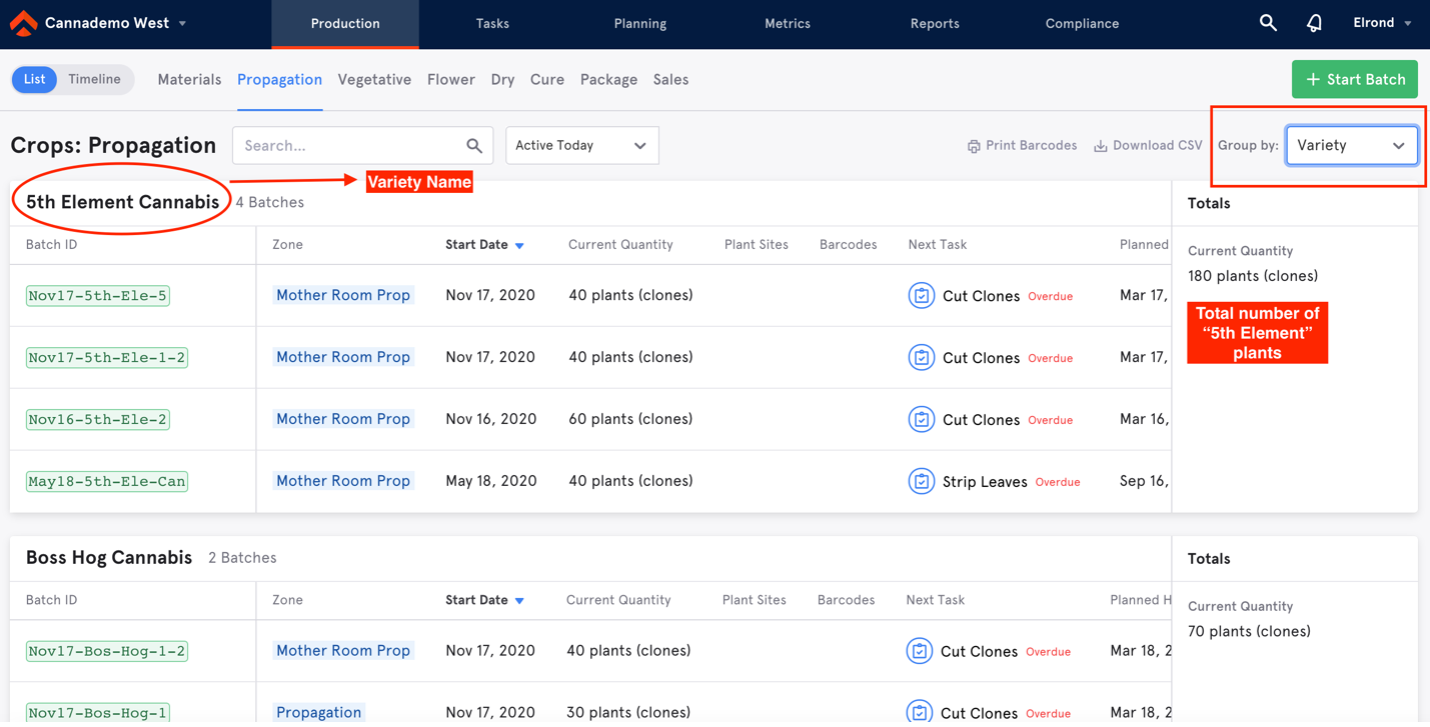 Group by Zone

Print Barcodes
See "Printing Barcodes" for more details.

Download CSV
Click 'download CSV' to export the data shown on the production page into a CSV in order to easily share your data with people who do not have access to your LUNA CMP account (e.g. auditors). Only the data shown in this stage (in this example, the vegetative stage) will be exported. If you've filtered your production list view, only the batches you see on this page will be exported.

Next Task
Rather than clicking into each batch page to complete tasks, click the task icon under 'Next Task' to complete the next task assigned to that batch. This task will then show up as completed on the Task tab and on the Batch Page.

Other columns to note:
The Planned Harvest Date is based on the due date of the last, complete harvest task. The due date of the last harvest task is determined by the template that batch was started from.
The Planned Harvest Date will be replaced with Harvest Date once a harvest task for that batch is complete.
Upon completing the harvest, the available and generated inventory columns will populate.
For each Custom Field added to a stage, a column will be added after Batch Age.